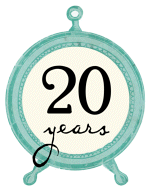 What's New?
JULY 2017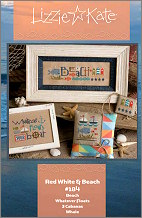 #184 Red White and Beach Chartpak
I jumped overboard and designed 4 nautical/beach-y projects that are so fun. They're not strictly patriotic, just summer-y.

I loved stitching this bunch of beach-y projects from sunny, landlocked Kansas. I think you'll enjoy the sand and surf wherever you live.


B57 Be Still Inspiration Boxer
"Be still and know that I am God."
This verse really nudged me a few months ago, so now I'm sharing it with you.

Boxer includes 32 ct. fabric, antique gold cross charm and a darling little BONUS design - "Be a Nice Human."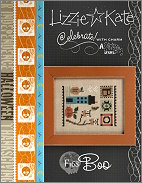 F168 Boo Celebrate! with Charm Flip-it
Our year of celebrations continues with Halloween. We've included an antique gold moon charm.

This Flip-it series will conclude with Thankful (Thanksgiving) and Merry (Christmas) before 2017 closes. Luckily, these favorite holidays roll around every year, so there's always time to celebrate!


APRIL 2017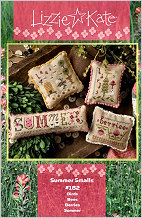 #182 Summer Smalls
We're excited to preview our seasonal "Smalls" series! These little gems are so quick and fun, we decided to make them a seasonal series.

Each "Smalls" chartpak will include 4 charming little designs, with embellishments for all.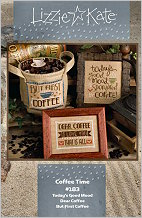 #183 Coffee Time
What time of day is coffee time? Always!

We "perked up" 3 favorite coffee quotes, just for your stitching pleasure. Enjoy the buzz!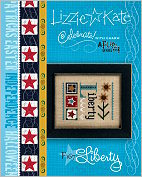 F167 Liberty (July 4th) Celebrate! with Charm Flip-it
Our Celebrate! with Charm series continues with a patriotic theme. Includes a tiny antique gold star. We've also posted a "Canadian conversion" on the Boo boo page of this website.




K95 A Little Stitch
It's time for another "Little" kit and we've chosen our favorite subject - stitching! We've included some wise words to live by..."Stitch every day."

Kit includes 28 ct. Lambswool linen and silver "Made with Love" charm.



FEBRUARY 2017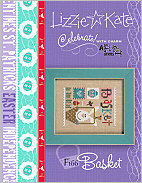 F166 Basket Celebrate with Charm Flip-it
It wouldn't be Easter without a basket, and ours has a grinning bunny and a cheerful chick.

Flip-it includes antique gold dragonfly charm.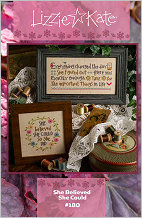 #180 She Believed She Could
I found 2 cool sayings I loved, so combined them into one powerful, female-friendly inspirational chartpak. Words to live by!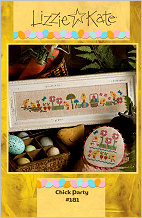 #181 Chick Party
These 2 Easter designs are overflowing with adorable CHICKS! Chicks here, chicks there, chicks everywhere. Invite some chicks to your place for Easter!

We'll provide the template for our Easter egg and complete finishing instructions online. Includes tiny white buttons for both projects.


JANUARY 2017


CELEBRATE WITH CHARM 2017 FLIP-ITS!
We LOVE HOLIDAYS, so we're so excited to celebrate 2017 (and every year after) in stitches. For each holiday, we chose a single word to symbolize the holiday and then designed around it. Lots of colorful, holiday motifs and L*K charm combine to make this series special. And did we mention, they are quick, satisfying little projects?!
If you want to Celebrate with Charm all year long, we're including instructions for stitching the whole series together horizontally. We coordinated the threads to blend nicely from Valentine's through Christmas.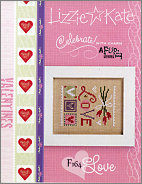 F164 Love Celebrate with Charm Flip-it
The first in our new Celebrate with Charm series, LOVE has a tiny golden heart charm.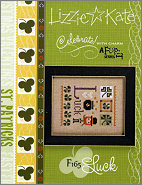 F165 Luck Celebrate with Charm Flip-it
Our St. Patrick's Day design includes a little shamrock charm.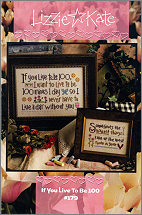 #179 If You Live to be 100
It's finally here...another perfectly "Pooh" chartpak! Pooh lovers have been anxiously awaiting since our Pooh saying contest a few months ago. There are 2 favorite Pooh sayings, including the contest winning quote. We love Pooh's sweet, timeless wisdom.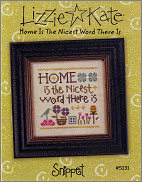 S131 Home is the Nicest Word There Is Snippet
I saw this charming saying from Laura Ingalls Wilder and had to graph it right away. Such a lovely sentiment...and so true!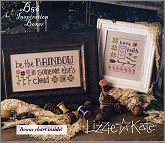 B56 Be the Rainbow Inspiration Boxer
Remember this saying? It was a "Top 10" in our Inspiration Boxer saying contest. It's a classic saying from Maya Angelou and perfect for our inspiration series. Kit includes 30 ct. lambswool linen, rose flower button, and BONUS design.


DECEMBER 2016




K93 NOEL Limited Edition Kit
This vintage-look kit includes a sleigh-full of holiday goodies...30 ct. linen, 2 beautiful finishing fabrics with gold touches, ivory rick rack, antique gold heart charm, golden beads, twine and complete finishing instructions. It's a pin pillow, bowl filler, door hanger... whatever your holiday heart desires.
This little kit also has a special treasure... we're including a charming Limited Edition "Old School Santa" needle nanny! What's a Needle Nanny? It's the cutest little Santa "dot" ever! The Needle Nanny incorporates 2 very strong Rare Earth magnets.



K94 O Christmas Tree Kit
Who doesn't love a colorful Christmas tree? We stitched not one, but 10 bright trees on this quick-stitch design! Then we found the perfect finishing fabric with more trees and sparkly gold accents.
Kit includes 30 ct. linen, 2 finishing fabrics, red rick rack, 4 white snowflake buttons, red and white beads, and finishing instructions. You supply the bits of thread from your stash and the holiday cheer!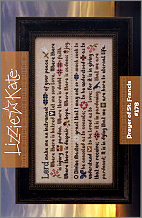 #178 Prayer of St. Francis
I've had a lot of (prayer) requests for this lovely prayer over the years. I found that stitching these words, one little cross at a time, was meaningful. I hope it speaks to you, too.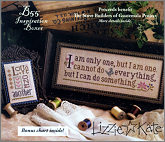 B55 I Am Only One
It's our first Inspiration Boxer where the proceeds go to charity - yea! Just in time for the holiday gifting season, we're inviting our customers to be part of our holiday giving. We used a classic inspirational saying and also included a BONUS design. Kit includes 30 ct. lambswool linen, embellishment and BONUS design.


OCTOBER 2016

It's official "holiday stitching time" and we're ready with lots of new goodies! We're got new designs for Christmas and Thanksgiving (you asked!). Here are new additions to the L*K family.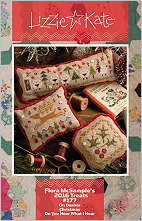 #177 Flora McSample's 2016 Treats
Our sampler girl, Flora, is back with her annual collection of holiday goodies with a vintage look. Flora designed 3 little projects - bowl fillers, pin pillows, whatever you want to call them/however you want to finish them little gems.

Flora uses the same color palette every year, so they are compatible with her previous years' stockings and other little projects. Chartpak includes embellishments for all 3 projects. I love Flora's sweet "treats" for 2016!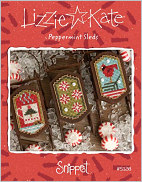 S128 Peppermint Sleds Snippet
I got carried away designing little sleds this year, so we've got TWO new collections of sled designs! Each Snippet includes tiny button embellishments for all 3 sleds. We use the same color palette every year, so these sleds "match" the sleds from previous years.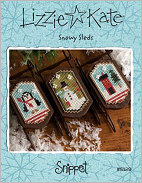 S129 Snowy Sleds Snippet
These little sleds are so quick and easy, it's addictive. Stitched on perforated paper (or fabric, if you choose), these little guys stitch and finish up in a wink. Includes iridescent white beads for all 3 sleds.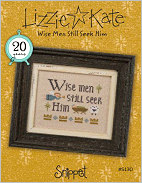 S130 Wise Men Still Seek Him Snippet
Perfect for the true spirit of the season. This timeless design stitches up quickly, but you'll enjoy it for years to come. We framed our model, but it would make a great little pillow.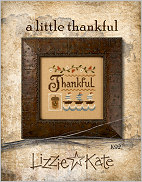 K92 A Little Thankful Kit
You've been requesting a Thanksgiving "Little" kit, so here it is. No turkey here, but we did include those famous "3 ships" that discovered America and the New World with our pal, "Chris" Columbus on board. Kit includes beautiful Amber linen, antique gold acorn charm and golden beads.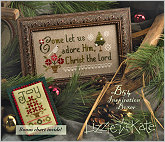 B54 Come Let Us Adore Him Inspiration Boxer Kit
Boxers are back, but they're UNBOXED! We've replaced the plastic case with a plastic sack - no more breakage and much lighter/cheaper for shipping. The good news is, same great Boxer kits wait for you inside the "Boxer bag."

We're pleased to introduce our first Christmas Inspiration Boxer with the lyric from a favorite carol. Kit includes 30 ct. Natural linen, 3 cream snowflake buttons and BONUS project.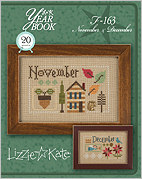 F163 November December Yearbook Double Flip
Our 2016 Yearbook Flip-it series is finally complete! And here's the good thing... we have the same 12 months every year, so these never go out of style.

If you didn't jump on the Yearbook craze this year, think about it for 2017. Go "Yearbook Crazy" and stitch the entire year as one big calendar, or choose your favorite months and enjoy. Complete instructions on our website for combining the year on one stitchery. November/December comes with antique gold squirrel and Christmas heart charms.




AUGUST 2016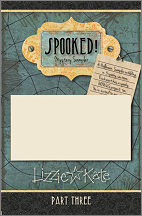 SPOOKED! Mystery Sampler Part 3
Its finally here... Part 3 of our SPOOKED! Mystery Sampler, which includes the long-awaited sampler photo on the cover. So why does our picture not include the photo? We'll post it soon after SPOOKED! has made it to shops everywhere.

In addition to the final part of the mystery design, Part 3 also includes our final BONUS project. It's called For the Birds, and is a really fun, nice-sized Halloween stitch. Our SPOOKED! Embellishment Pack includes goodies for the main sampler, as well as For The Birds. If stitchers have been wondering what to do with some embellishments, that mystery will soon be resolved.

It's never too late to join the SPOOKED! Mystery Sampler club. All 3 parts are now available, as well as the SPOOKED! Embellishment Pack which includes goodies for the main sampler and all 3 BONUS designs.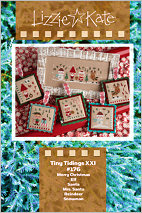 Tiny Tidings XXI
21 years and counting! I was thinking about my favorite Christmas things this year, and came up with a list of 5 favorite Christmas characters...Santa, Mrs. Santa, reindeer, elf, and (of course), snowman. They're each a darling little ornament size and each has it's unique embellishment. I was enjoying these little Christmas friends so much, I combined 4 of them on another design (sorry, little elf) with some trees and lots of snow. Lots of holiday stitching fun for Tiny Tidings 2016! Complete finishing instructions will be available at magicbymona.blogspot.com

E176 Tiny Tidings XXI Embellishment Pack
Includes goodies for all 5 small designs...antique gold wreath charm, "exclusive" cookie button, burgundy triangle button, tiny red button and white snowflake button.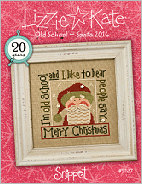 S127 Santa '16 Old School Santa
Love this year's saying..."I'm old school, and I like to hear people say "Merry Christmas!". Santa is sporting some muted, vintage colors this year to go with his "old school" mood.

S127E Santa '16 Old School Santa Embellishment Pack
Includes 3 antique white snowflake buttons for some snowy fun.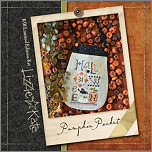 K91 Pumpkin Pocket
This completes our 4 seasonal purse/pocket kits. Classic Halloween colors and sampler-inspired motifs combine for some frightful fun.
Kit includes 30 ct. natural linen, black button, black rick rack, 2 rusty buttons, template and complete finishing instructions.

Other purse/pockets available in this series are K84 Very Merry Santa, K86 Hello Spring and K88 Love Summer



JULY 2016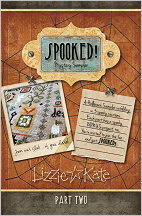 SPOOKED! Mystery Sampler Part 2
Our summer of mystery continues with Part 2 of SPOOKED! now available. Our Halloween mystery is unfolding in 3 parts this summer. For all the details on SPOOKED! Mystery Sampler, scroll back to June post and read all about the mysterious fun.

It's never too late to join the SPOOKED! Mystery Sampler club. If you want to join the worldwide stitching community that's sharing the SPOOKED! mystery, let your favorite needlework supplier know. Parts 1 and 2 are now available, and the final Part 3 will be coming in August. Each part of SPOOKED! also contains a BONUS project.

The BONUS for Part 2 is a quirky standup we're calling Winnie Witch. There's also an optional SPOOKED! Embellishment Pack available that includes goodies for the main sampler, and all 3 BONUS projects.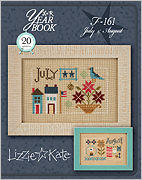 F161 July/August Yearbook Double Flip
Fun stitching ahead for fun summer months.
Double Flip includes antique gold sun and starfish charms.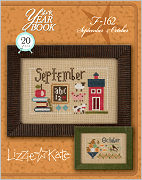 F162 September/October Yearbook Double Flip
These are some of my favorite months of the year - love early autumn!
This Double Flips includes antique gold ruler and moon charms.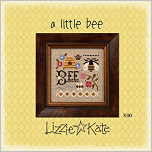 K90 A Little Bee Kit
I was going through my notebook looking at ideas submitted by stitchers, saw this request, and buzzed through a quick design. A Little Bee kit includes 30 ct. natural linen, antique white flower button and hours of "bee-themed" fun.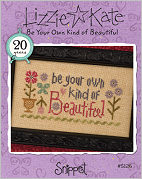 S126 Be Your Own Kind of Beautiful Snippet
Sweet little design continues our 2016 theme of personal care and empowerment.
Enjoy the "beautiful" stitch!


JUNE 2016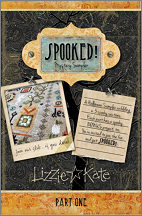 SPOOKED! Mystery Sampler
Ready for another summer of stitching suspense and mystery? Part One of our SPOOKED! Mystery Sampler is now available.

SPOOKED! Mystery Sampler will unfold in 3 parts in June, July and August. Needlework shops will be shipped on the 15th of each month, so you will have the mystery in your anxious fingers shortly after that. SPOOKED! stitch count is 227W x 97H. Click the image at right to get all the scoop and join our summer fun.

APRIL, 2016

We're really excited to introduce our new Yearbook Double Flips!
What's a Yearbook Double Flip? We're doing another monthly series. It's been years and years since we've done a monthly series, and decided it was the perfect way to celebrate L*K's 20th anniversary in the needlework biz. And you know... we have the same 12 months every year... so this never goes out of style. We decided on the name "Yearbook" as a nod to our 20 years in the needlework biz. Click through to the inside pages for more details.

Here are some details about the upcoming Yearbook Double Flips:
Each Yearbook Double Flip contains 2 monthly designs.
We're using the same set of 12 antique gold charms that we used for our original "A Year with Charm" Flip-it series. It was a fun design challenge for me to incorporate the same 12 charms, and a remembrance of "Flip-its past."
Each Yearbook Double Flip contains a motif from a previous L*K design. As we celebrate 20 years together, I'm in a nostalgic mood so I decided to do a little "hide and seek" game with all of you. Look for a "repeat" motif borrowed from a previous L*K design in each month. They're not always exact repeats, but you can spot them.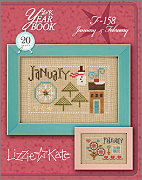 F158 January February Yearbook Double Flip
Let's get this Yearbook party started! Stitch these separately, or combine them all into one long calendar of stitches.
Includes snowflake and locket antique gold charms.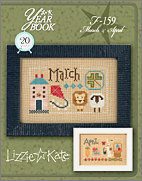 F159 March April Yearbook Double Flip
More Yearbook fun...in stitches!
Includes shamrock and butterfly antique gold charms.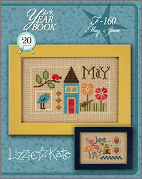 F160 May June Yearbook Double Flip
We're ready for summer with some of our favorite cheerful motifs.
Includes garden shovel and dragonfly antique gold charms.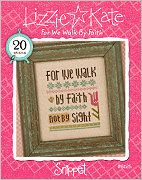 S125 For We Walk by Faith Snippet
Amen! I hope you love this scripture as much as I do, II Corinthians 5:7. Great words to stitch and live by!



B53 Accept What Is Inspiration Boxer
This saying was one of the "finalists" from an earlier inspiration sayings contest. As we celebrate 20 years together in the needlework biz, I want to fill 2016 with lots of positive, empowering, "can-do" thoughts. Boxer kit includes 32 ct. Lambswool linen, pink buttons and the largest BONUS design ever. Happy 20th!



MARCH, 2016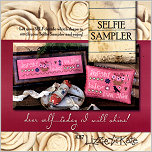 K87 Selfie Sampler Kit
We're in a positive, self-empowering groove in 2016 here at L*K. When we found this wonderful saying, a kit was born. We offer 2 different stitching options - choose your favorite shape. Fabric included is adequate for whichever choose you make. Kit includes lovely 32 ct. Red Pear linen, embellishments for sampler and bonus project, and bitty BONUS design. We've also included finishing instructions for the Selfie Sampler pillow and bonus "weenie" project.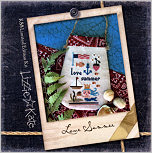 K88 Love Summer Limited Edition Kit
Following in the footsteps of Very Merry Santa, and Hello Spring, we're continuing our little "purse" series. Love Summer includes our favorite summer-y motifs, including our first L*K mermaid. She's holding a golden shell charm. Kit includes 30 ct. Lambswool linen, classic bandana finishing fabric, twine handle, and complete finishing instructions. Summer is just around the corner!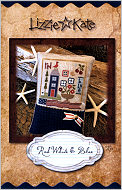 K89 Red White and Blue Kit
We're in a patriotic mood at L*K in 2016 and we're proud to wave the red, white and blue. Classic sampler motifs combine with classic L*K charm (and a big, wavy flag!) to create a sweet sampler. Kit includes 32 ct. Lambswool linen, iridescent white beads, deep sea houndstooth wool, vintage-look backing fabric, stripe ribbon, mother of pearl round button, twine for cording AND (whew!) complete finishing instructions. Long may she wave!


FEBRUARY, 2016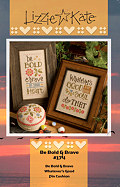 #174 Be Bold and Brave
Everyone keeps requesting more inspirational sayings, so I've combined 2 favorites in this chartpak, plus a bonus pin cushion design.

I just love both of these empowering phrases. They're great words to begin the New Year.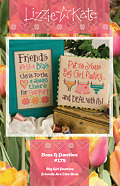 #175 Bras and Panties
The Big Girl Panties are back!! Maybe the most oft-requested phrase ever (who knew?!), I decided 2016 was the time to bring the undies out of the drawer.

We're including some hand-dyed buttons in orange and pink to add to the "unmentionable" fun.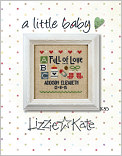 K85 A Little Baby Kit It's a new member for the "Little" kit club and perfect for the newest little one you love. This one is a cutie and has space for easy personalization. It's a quickie gift that will last a lifetime. The colors are easy to tweak for girls or boys. Just change the colors on the baby booties.

Includes 28 ct. Lambswool linen, alphabet and numbers for personalization and antique gold heart charm.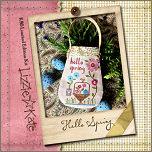 K86 Hello Spring Kit
I just adored the little purse finish on our recent Very Merry Santa Kit, so I'm doing a "little purse/pocket/whatever you call it" series for 2016.

We're including 30 ct. Lambswool linen, vintage-looking finishing fabric, burlap-y ribbon, pale pink button and 2 mother-of-pearl flower buttons. And, of course, complete finishing instructions and template. It's the perfect time to think spring with this sweet little project.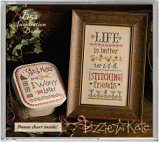 B52 Life is Better with Stitching Friends Inspiration Boxer Amen, sister! This sentiment makes a great gift for a special stitching pal, or keep it for yourself.

Kit includes 30 ct. Lambswool linen, dark blue buttons and my favorite BONUS design ever!



DECEMBER, 2015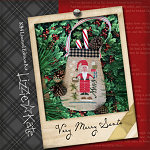 K84 Very Merry Santa Kit
Very Merry Santa Kit includes 28 ct. linen, checked finishing fabric, hand-dyed buttons, French twill stripe ribbon, jingle bell and 2 mother-of-pearl buttons.

We're also including complete finishing instructions and template for your own Very Merry Santa. You supply something Christmas-y to fill your little purse.


NOVEMBER, 2015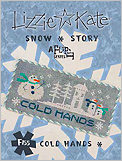 SNOW STORY Flip-its!!!

Are you ready for snow? We've got a blizzard coming your way! SNOW STORY is a 3-part mini Flip-it series. Each snowy design can be stitched separately, or combined into one long Snow Story.

SNOW STORY isn't a "Christmas" design, but it can definitely be displayed over the holidays. The fun part is...you don't have to put Snow Story away with your holiday gear. SNOW STORY is perfect for chilly winter displays after the holidays.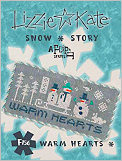 Each Snow Story Flip-it comes with 2 hand-dyed navy buttons. Snow Story Flip-its stitch up in a snap, because the color palette is simple.

The individual SNOW STORY models are finished flat and attached to snowflake cutouts from Hobby Lobby. We'll have complete finishing instructions available at magicbymona.blogspot.com. As always, you can finish like our models, or do your own snow-inspired finishing.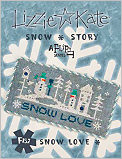 Stitch Count for the entire Snow Story is 229W x 33H. We stitched the combined Snow Story on 32 ct. Storm linen from Picture This Plus. The individual models were stitched on 28 ct. Storm linen.

F155 Cold Hands Snow Story Flip-it
F156 Warm Hearts Snow Story Flip-it
F157 Snow Love Snow Story Flip-it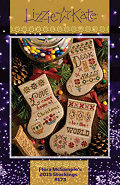 #173 Flora McSample's 2015 Christmas Stockings
I really love designing and stitching these mini stockings every year. This year I chose a "Christmas Carol" theme and used titles from 3 of my favorite carols. Chartpak includes 3 designs with embellishments.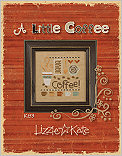 K83 A Little Coffee Kit
It's always the right time for a hot cup of coffee, but especially when the weather turns cold! A Little Coffee kit includes 28 ct. Amber linen and tiny "cafe au lait" colored buttons. Pour yourself a cup and starting stitching!




B51 Gratitude Turns What We Have into Enough Inspiration Boxer
Inspiration Boxers have been on a mini-break, but they're back! It's always the right time for an attitude of gratitude. Our Gratitude Boxer includes 30 ct. Lambswool linen, embellishment, and sweet BONUS design.



SEPTEMBER, 2015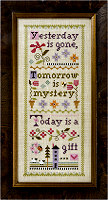 "A Little Mystery" Part Three
This concludes our 3 part "A Little Mystery" Sampler. Part Three includes the BONUS pattern "Don't let yesterday take up too much of today". This sweet project coordinates with all of the other mystery projects.

Part Three also reveals the finished mystery design, so for those of you who want to "see it first", now it's here!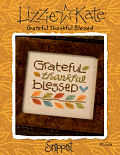 S124 Grateful-Thankful-Blessed Snippet
It's a great Thanksgiving design, but the sentiment works year round.
Enjoy the stitching blessings!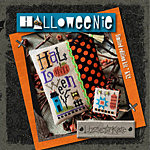 K82 Halloweenie Limited Edition Kit
We just couldn't resist adding one more "ode to orange" to our 2015 Halloween lineup. We love designing for Halloween, and this kit is classic L*K (and quite different from our other Halloween offerings this year). Halloweenie has 2 quickie projects: pillow and bitty fob.

This kit will be gone soon...just like Halloween 2015...so let your favorite needlework shop know to order Halloweenie NOW!



AUGUST 2015

It's that time again! It's summer outside, but it's time for our annual holiday designs. You've got lots of time to work on Halloween and Christmas stitching, so enjoy!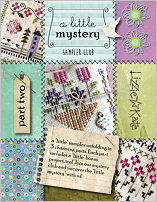 "A LIttle Mystery" Sampler - Part Two The second part of our 3-part mystery sampler is available now. Part Two of "A LIttle Mystery" includes the second (middle) part of our sampler design. It also includes a BONUS pattern for our "Little" pin pillow project. So sweet!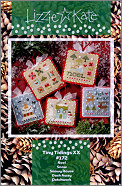 #172 Tiny Tidings XX
Yes, those 2 little X's mean it's been 20 years of Tiny Tidings here at L*K. That's over 100 little Tiny Tidings designs all together! We tried something different this year, and used 2 colors of petite dot linen for our fabric. It's your choice to use the dots, or your favorite neutral fabrics. We've included instructions for both. As always, these little gems are perfect for ornaments, gifting, or whatever makes your Christmas heart happy.




#E172 Tiny Tidings XX Embellishment Pack
Here are all the little extras to embellishment your 5 Tiny Tidings projects. Includes tiny red buttons, white and aqua snowflake buttons and antique silver star charm.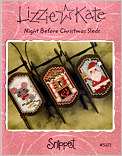 S121 Night Before Christmas Sleds
MORE SLEDS! We've been getting requests for more sled designs since our first batch last fall, and here they are. I used the classic "Night Before Christmas" as my inspiration for this group of 3 little sleds. This Snippet includes embellishments for each little sled. Happy sledding!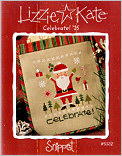 S122 Celebrate! Santa '15 Snippet
This is my favorite Santa in a long while, because he's just so happy and playful...just like a child at Christmas-time. We finished Santa '15 into a darling little pocket, but you can do your own favorite finish.




S122E Celebrate! Santa '15 Snippet Embellishment Pack
Finish Santa in style with these little goodies... white snowflake button, red triangle button and petite red beads.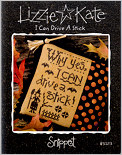 S123 I Can Drive a Stick Snippet
I saw this saying, laughed out loud and ran to the computer to start graphing. You can have fun with all sorts of finishing on this Halloween crackup. And it's a snap to stitch because it's all in one color - black, of course.



JULY 2015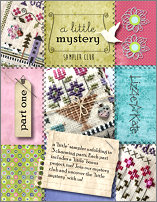 "A Little Mystery" Sampler Part One
Part One has been shipped, so "A LIttle Mystery" is beginning to unfold!

Part One includes the first 1/3 of "A Little Mystery". It also includes the first BONUS design, which is a sweet 2-sided "Little" scissor fob. "A Little Mystery" Embellishment packs are also now available. Embellishment packs includes goodies for "A Little Mystery", as well as all 3 of the BONUS projects.


Part Two of "A LIttle Mystery" will ship to shops on August 12. Part Two will include the middle section of the sampler, and a BONUS "Little" pin pillow design.


Part Three will ship to needlework shops on September 9. Part Three will include the final part of "A LIttle Mystery" and a BONUS "Little" sampler.

It's never to late to join our summer of stitching suspense and mystery! Just contact your favorite needlework shop to order. "A Little Mystery" is a "little" project, so there's still plenty of time for other summer activities while you're unraveling our mystery. Enjoy the mysterious summer of 2015!

JUNE 2015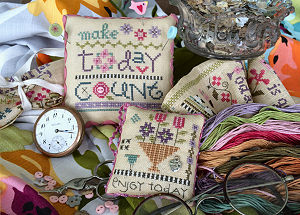 "A Little Mystery" Sampler is coming SOON!
It's TRUE... we're doing another SUMMER MYSTERY SAMPLER! It's called "A Little Mystery" and it's perfect for all of our busy summer schedules... because it's a "little" mystery.
Click to get the whole scoop!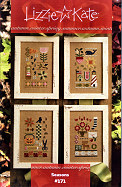 #171 Seasons chartpak
This idea began as a Snippet series of 4 seasonal designs, then I decided to pack them all in one chartpak for a good value. This chart will sell year round because there's a sweet design for every season.

Each design is full of sampler inspiration and L*K charm. I absolutely loved stitching the models on these little goodies - sure hope you like them, too!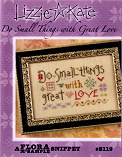 S119 Do Small Things with Great Love Flora McSample Snippet
Sweet, sweet, sweet! This little project will make stitchers smile, and you'll smile when they're back in the shop for another project in a flash. It's quick, but long on charm with lovely soft colors and cheery motifs.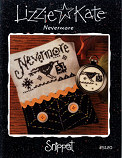 S120 Nevermore Snippet
This little Halloween project is a snap to stitch because it's all in one color...black, of course! I took a little raven motif from the main Snippet, and put it in a little watch fob for a second stitching idea.

You can have fun choosing all kinds of fun fabrics for this one. Quoth the Raven "Nevermore" (Edgar Allan Poe).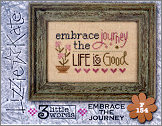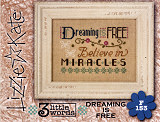 F153 3 Little Words Dreaming is Free Flip-it
F154 3 Little Words Embrace the Journey Flip-it
These are the final 2 designs in our 3 Little Words Flip-it series.

Don't forget to use the FREE template on L*K website to combine all the designs into one stitchery. Or pick and choose your favorites to create your own inspiration statement. There's also a free BONUS design for this series posted under Freebies on this website.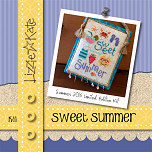 K81 Sweet Summer Limited Edition Kit
We shipped our first batch of Sweet Summer kits, just in time for the "official" start of summer and the Memorial Day holiday. We were blown away at the early response, and we're busy restocking and buying more of that darling little shell trim. Remember... this kit will only be available until Labor Day 2015. It's gonna be a long summer, so grab your cool drink and start stitching!



MAY 2015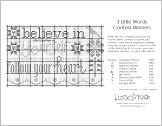 3 Little Words Inspiration Contest Winners!
We recently had an online contest to submit your favorite inspiration sayings...in 3 Little Words! After our voting period, you chose 2 winners.

Here's the FREE graph using the 2 winning sayings. You can stitch this separately, or add to other 3 LIttle Words Flip-its and create your own personalized inspiration stitchery. ENJOY!



APRIL 2015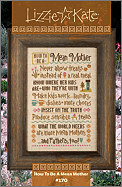 170 How To Be A Mean Mother
This is an oldie saying I had when my kids were young, and I think it's super fun! Lots of great motherly (or grandmotherly) wisdom in a light-hearted design. Good parenting never goes out of style!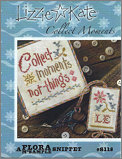 S118 Collect Moments Flora McSample Snippet Flora's been busy again, creating another little vintage-style masterpiece. There are 2 designs squeezed into this Snippet... a little square (perfect for pin pillow or lots of finishing options) and a matching fob. Thanks, Flora!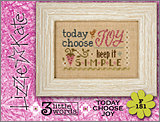 F151 Today Choose Joy 3 Little Words Flip-it
Our Flip-it series continues with more 3 Little Words wisdom. Stitch them all together, or choose your favorite 3 Little Words to create your own personalized stitchery.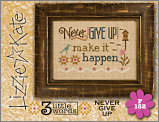 F152 Never Give Up 3 Little Words Flip-it
Our Flip-it series continues with more 3 Little Words wisdom. Stitch them all together, or choose your favorite 3 Little Words to create your own personalized stitchery.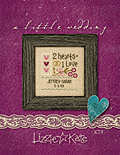 K79 A Little Wedding Kit
You asked for it... another Little kit to add to our Little collection. This is the quickest, sweetest wedding/anniversary chart you'll ever stitch... and it's personalized! Kit includes 32 ct. lambswool linen and antique gold key charm. The main design is stitched over 2 threads, but the personalization is done over one thread so ANY names will fit in the space.



MARCH 2015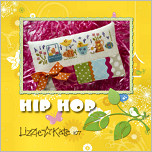 K77 Hip Hop Kit
Time for a little Easter fun! We have lively chicks, lots of eggs, carrot and flowers, all done in cheerful spring colors. Kit includes 30 ct. creamy linen, JABC flower button, super AWESOME finishing fabric, and complete finishing instructions. Get hoppin'!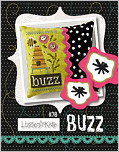 K78 Buzz
We designed a custom linen for BUZZ, and it's got everyone buzzing! Kit includes 28 ct. Verdant linen, 2 mother-of-pearl buttons and design. Time to BUZZ!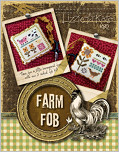 K80 FARM FOB
The barnyard gang is all here...and they're charming! Our little 2-sided fob will make you moo, oink, quack, buzz and peep for joy. Kit includes assorted pale fabrics, antique gold rick rack, and stash of rusty beads to adorn the rick rack trim. Complete finishing instructions are included so you can join us on the farm!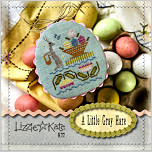 A Little Gray Hare Limited Edition Kit
Our sweet little egg kit has it all...32 ct. hand-dyed seafoam WDW linen, 8 colors of WDW floss, petite pink beads, pale pink rick rack, lovely finishing fabric (for back of egg) and complete finishing instructions, including egg template. This is a Limited Edition kit..."hare today, gone tomorrow."



FEBRUARY 2015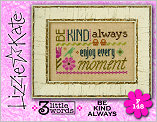 3 Little Words Flip-its
We're really excited to share our new Flip-it series! I was thinking about the New Year, and thought a little inspiration (not to be confused with resolutions!) would be perfect. I looked everywhere for little bits of inspiration...in only 3 words!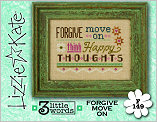 After I chose my favorites (the hard part!) I graphed them in groups of 2 sayings. There are 7 different Flip-its in the series, so that's 14 little phrases.

Stitch them all together, stitch them separately, or choose your favorites and create your own personalized inspirational stitchery!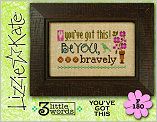 F148 Be Kind Always - 3 Little Words Flip-its

F149 Forgive Move On - 3 Little Words Flip-its

F150 You've Got This - 3 Little Words Flip-its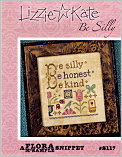 S117 Be Silly - Flora McSample Snippet
Our little sampler girl, Flora, is doing a series of Snippets this year. Each design has vintage motifs and a sampler feel...and they're sweet, quick and CUTE (just like Flora!). This is a classic saying from Ralph Waldo Emerson, and we think it's perfect for right now.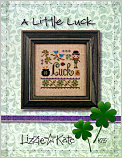 K75 A Little Luck
Remember when we asked for ideas for more "Little" kits? We're using them! This quickie project is perfect for St. Patrick's stitching. A Little Luck comes with 32 ct. lambswool linen, and golden horseshoe charm and a bit 'o luck included for FREE!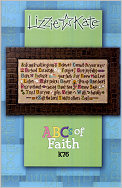 K76 ABCs of Faith
We're pleased to bring you another ABC kit. This design has beautiful colors and is kitted with Weeks Dye Works threads. We worked really hard to create the ABCs of Faith text (prayer was involved!). This is a lovely heirloom stitchery, and we hope you enjoy working it.


JANUARY 2015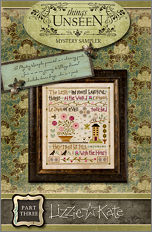 Things Unseen Mystery Sampler Part 3
Our Things Unseen Mystery Sampler is complete, but it's never too late to join in our mystery fun! Things Unseen is a year-round design with beautiful "heart" felt words to live by... any day... any season... for many years to come.

We used a beautiful, inspirational saying from Helen Keller.





Lizzie*Kate, Inc.
2730 N. Amidon, Suite B
Wichita, KS 67204
Phone: (316) 832-0501
Fax: (316) 558-8427
info@lizziekate.com

© 2017 Lizzie*Kate, Inc.
You may not reproduce, copy, or redistribute the design or layout of this web site,
individual elements of the web site design, or Lizzie*Kate, Inc. images, designs or logos without
the express written permission of Lizzie*Kate, Inc.
Designs and Images © 1996-2017 Lizzie*Kate, Inc.

"Lizzie*Kate" logo trademark of Linda Ebright of Lizzie*Kate, Inc.
"Snippets" logo trademark of Linda Ebright of Lizzie*Kate, Inc.